Code Review
for Fedora Infrastrcture applications
Created by Ricky Elrod / @relrod6 / codeblock / relrod
About me
Intern at Red Hat on the Fedora Engineering team.
Involved with Fedora since early summer of 2010.
Contributor to Facebook's Phabricator code review toolset.

But won't be talking about that here.
What is code review?
A process by which code is reviewed. Obviously.
Peer-review of code before it becomes "official."
A chance for community involvement.
A time for teaching.

"You can get rid of this for-loop and do this much more elegantly."

A time for learning.

"This looks great - what do you call this pattern?"
"Oh wow, that's a much nicer way to do that. I'll remember that from now on!"
Advantages
Isn't it just more boring process?
Encourages community envolvement.
Higher quality patches, the first time.
Prevents bugs and security holes.
Keeps the codebase consistent and clean.
Keeps really bad ideas out of the codebase.
It can be fun!
As a rule...
You are far more likely to fix code before it is merged into the codebase than after.
There is rarely one solution
...but there is often a better solution than others.
It's a very natural mistake to be handed a problem, think of a solution, and assume that it is the solution.
Often times, the coder's solution will work, but it's not the best solution for various reasons.
How it works (general)
There exists a repository (git, svn, etc.).
Someone wants to change a piece of code in that repository.
They write a patch.
They submit the patch for the community to review.
They iterate on the patch with comments from community members.
The patch gets merged into the repository.
How it works (Fedora style!)
There exists a repository (git).
Someone wants to change a piece of code in that repository.
They fork the repository (unless they have commit access).

This is the only step that people with commit access should skip in most cases - forking.

They make a new branch, usually via git flow (out of the scope of this talk).
They push the branch to their fork (or the repository itself, if a committer).
They send a pull request.
They iterate on the patch with comments from community members.
The patch gets merged into the repository.
How do I review code?
Find an open review/pull request.
Look over the changes. Some things to look for:

Is this change within the scope of the project?
Does this change break existing functionality?
Is this change documented well?
Is there a better way to implement this idea?
Are there any security concerns?
Licensing concerns?

Run tests, linters, etc.
Comment on it, politely listing issues you have found.
Discuss alternative/better methods of doing things.
Ask for clarification.
Don't be afraid to say nothing.
Look for problems and report them or ask for clarification.
But if it looks good, there's nothing wrong with just saying "LGTM".
(LGTM = Looks Good To Me)
Be prompt, but not rushed.
When you see a review request waiting, process it as soon as you have a chance.
Don't drop everything you're doing, but the sooner the better.
Make it your spare time task: When one might check social networking sites or email, an engineer should seek to clear out their code review queue.
Try to give feedback on all pending reviews within 24 hours, if not sooner.
That said, don't rush through it. Take your time.
What should a review request look like?
Keep it small!
One change per Pull Request, if possible.
Having your code reviewed.
First off, don't be offended!
A main point of code review is to learn new, better ways to do things. Take the opportunity to learn!
Never be afraid to ask for clarification, or to defend something you've written.
If you can't decide, with the reviewer, the best way to do something, ask other community members.
Once you fix the issues, you can amend the commit to your branch, and git push -f
Step 1: Make a change/Submit PR.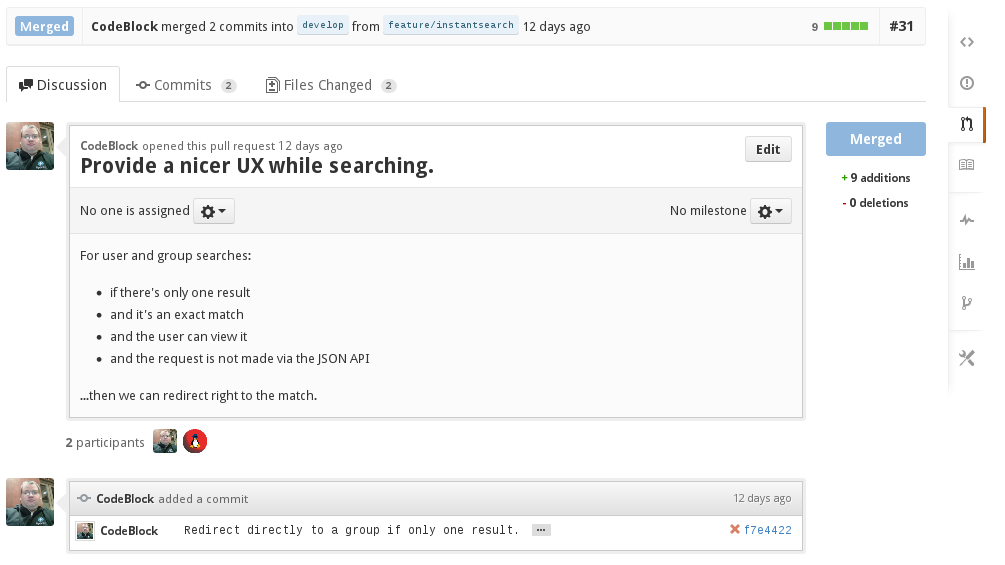 Step 2: Wait for comments.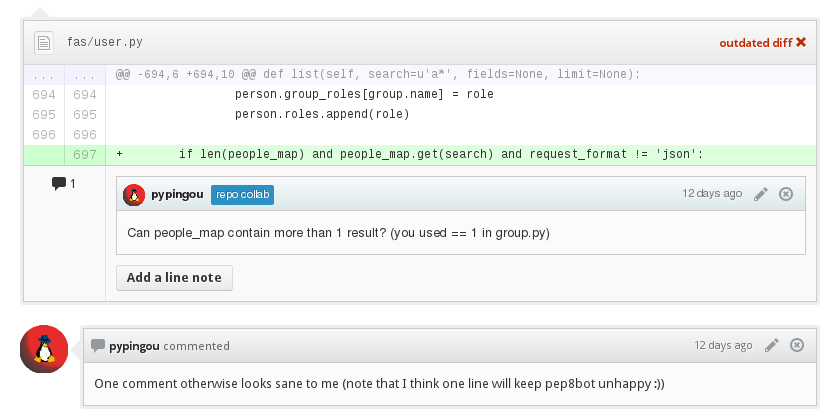 Step 3: Iterate based on comments.

Step 4: Merge or wait for it to be merged.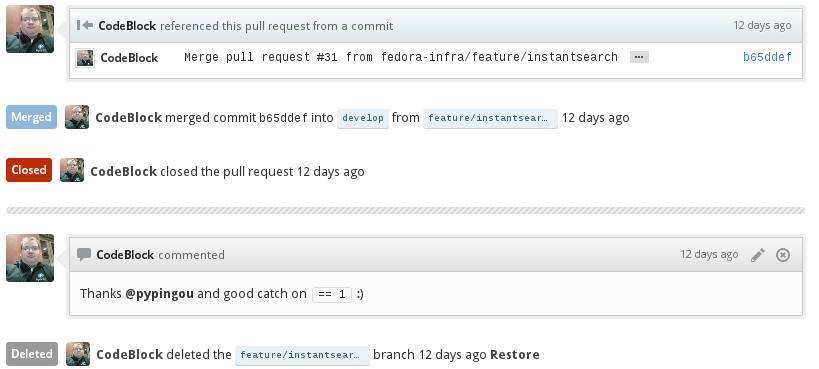 Eat a lot of :cake:
Thumbs up! :+1:

In summary:
Fedora Infrastructure uses pull requests as a form of code review.
Code review catches many bugs and flaws that would otherwise go live.
Code review can be fun and you can use things like emoji to make it less boring.
Ask for clarification - both of the developer and the reviewer.
Be prompt, so people aren't blocking on you.
Automate what you can (tests, linters, etc).