Fedora Mobile Apps
Interacting with Fedora's web apps on the go.
Created by Ricky Elrod / @relrod6 / codeblock / relrod
About me
Intern at Red Hat on the Fedora Engineering team.
Involved with Fedora since early summer of 2010.
Active elsewhere in Open Source development.

Facebook's Phabricator.
Scala community.
The World is Going Mobile
In three years, global mobile traffic went from representing 1% of internet traffic to over 20%.
Mobile internet traffic is predicted to grow 400% by 2015.
My Vision as a Fedorian
Cell phones aren't going anywhere; why not harness that?
Lots of time and development on our web apps... but generally bad mobile UX.

Impossible to read without lots of scrolling/zooming.
Can't integrate with native phone APIs (more on this later).
Slow due to loading a full website with lots of resources.

For a desktop, this is fine.
On a phone, this can really slow things down and make for a bad UX.
Fedora Packages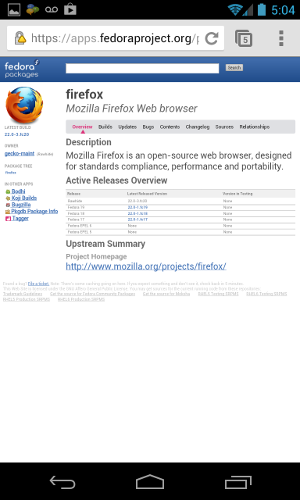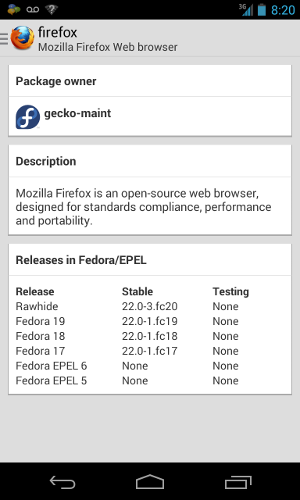 Fedora Status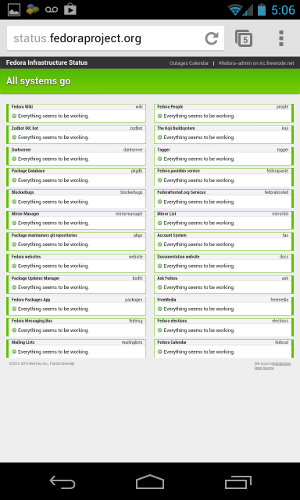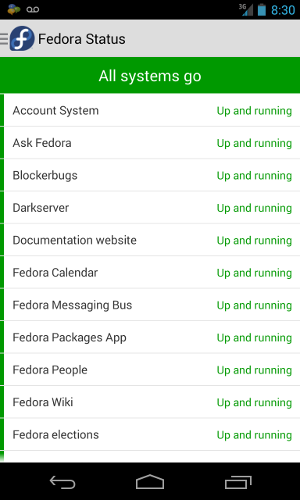 What can Fedora Mobile do right now?
Display a fedmsg newsfeed via datagrepper and hrf.
Search packages and show bits of information about them.
Show Infrastructure status.
Receive fedmsg notifications (very hacky proof-of-concept).
What do we want it to be able to do? (no particular order)
Use the Android Accounts APIs to integrate with FAS.

(This depends on fas-oauth, which is a WIP)

Integrate with Fedora Badges.

Scan a QR code → get badges for attending events

Proper fedmsg integration that isn't horrible.
Koji/Bodhi integration? Send packages to stable on the go?
Read/search docs and/or manpages?
Fedocal integration of some sort.
Your cool ideas here.
What *don't* we want it to do?
Interact with strictly third-party apps that Fedora uses.

(There's a fine line here that we should define.)
Examples: Bugzilla, Ask Fedora, Mediawiki, Mailman.

These kinds of apps would be better dealt with in separate, dedicated mobile apps.
How does it work?
It's primarily written in Scala — but don't be scared!
Scala inter-operates seamlessly with Java and we accept patches in both!
But, we encourage you to take a look at Scala. You might like it.
Purpose of this hackfest
Get thoughts on what is done so far.
Discuss future plans proposed and see if they make sense.
Get ideas for new future plans.
Discuss maybe doing similar apps for other platforms?